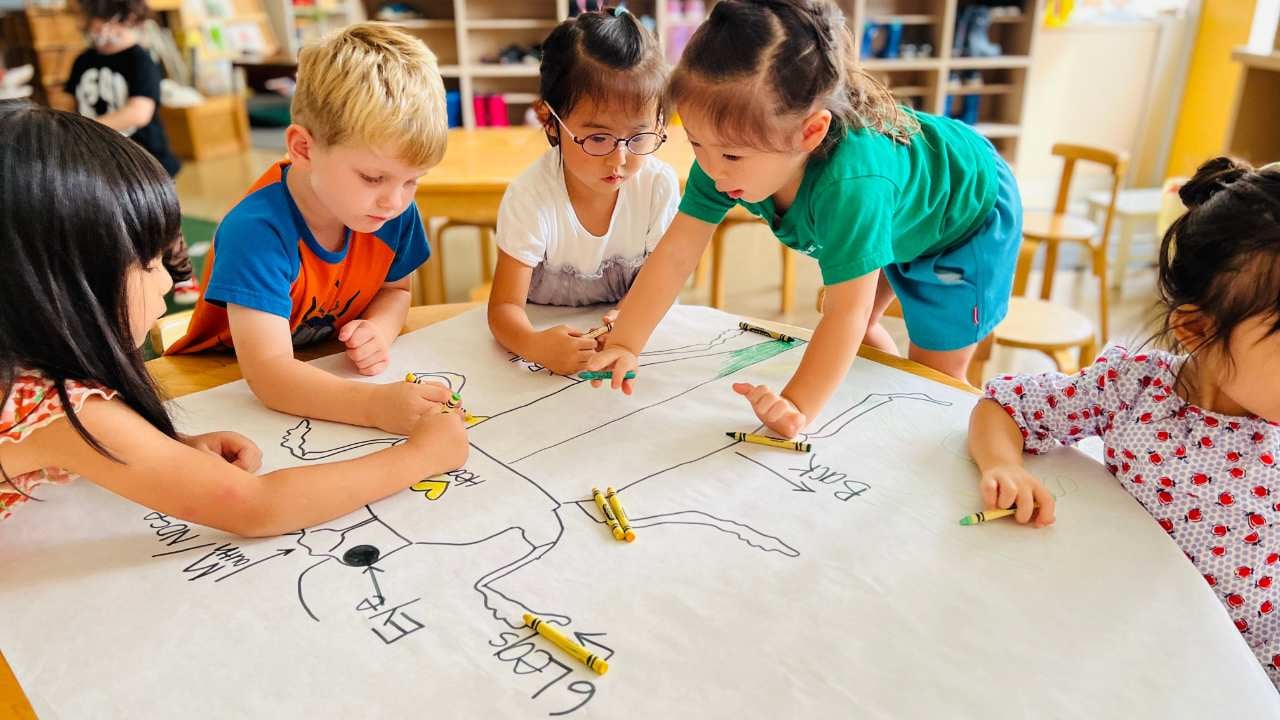 Enrolling your child in an international school can be a complete immersion into a new environment. From after-school activities to challenging but intriguing courses all day to a wide social circle of friends from around the world, your child is about to embark on an exciting adventure to say the least.
But a less frequent thought that pops into the mind of many soon-to-be Nagoya International School (NIS) parents is that they too have a place to land in this community. By choosing this international school for your child, life will change not just for your child, but also for you.
You may be thinking, "How?" Through our parents! The Parent Partners program here at Nagoya International School has three volunteer groups of parents - an Outreach group, a Transitions group and a PTA group. The Transition parents support an initiative that is essentially a parent buddy system for parents considering school. The Transition parents are a diverse team of volunteer parents who use their lived experiences, unique skill sets and attributes to support and develop the parents before entering the school – and one way in which they do this is by "buddying up" with new parents.
But rather than describe the importance of connecting with a parent and how some families are able to quickly choose NIS for their family, we've enlisted the help of one of our Parent Partners, Kaoru K., a mother of two, both of whom enrolled in 2014 and one of whom recentely graduated.
Selecting NIS for her children
With a Ph.D. in education from a major US state university, Kaoru was particular about the type of schooling she wanted for her children.
"I always look for the best possible education for my children, just because of my interests and academic background," said Kaoru. "I just felt education doesn't have to be the same as when we grew up or the way it was when we were educated, so I always looked for alternative ways to educate our children."
When Kaoru and her family moved back to Japan in 2013 to be closer to both her and her spouse's families, her oldest son was enrolled at a Japanese public school.
"He didn't enjoy the way the content was taught because Japanese schools are focused on rote learning, so he didn't enjoy learning that much."
Not only did she know NIS as "the most prestigious [and] well-established international school" in the neighborhood, she also knew the school had a unique approach to education.
Rather than a program that focused on memorization testing, Kaoru wanted more of an inquiry-based style of education for her children, something she knew was at the heart of the NIS curriculum.
"Students [at NIS] were allowed to think of the questions rather than just the answers and I thought it was good for us [and] good for our children."
An open campus policy
To help ensure parents feel connected and a part of the school, and to see first-hand how their children are benefitting from our approach to learning, NIS has an open campus policy where parents can come in anytime – as long as they check in at reception.
When asked about one of her favorite parts of NIS, Kaoru was quick to reference this opportunity for parents.
One day when she checked herself in and was roaming around the school grounds, she passed her daughter's Grade 2 classroom and peeked inside the window to see what her little one was up to.
"My daughter was there behind the window," Kaoru explained. "She was lying on the floor and reading a book…I knew kids do that, but I saw my daughter lying down on the carpet with a pillow under her head and reading… I thought, 'Oh, Sawaka, you look so relaxed and you are enjoying reading. That's great.'"
Then, as she looked around the room, she found everyone was mirroring this same, relaxed demeanor.
"Everybody looked so relaxed, chatting quietly and reading; I almost wished I was that age myself! It would be so much fun," said Kaoru, touching on how this learning is fantastic for nurturing growth in students.
"A gift from parents to a child"
Having a school that nurtures the skills students need to expand on their knowledge and encourage them to be critical thinkers, analyze what is being taught, reflect on lessons and discover how to positively contribute to the world around them from the point of a young age helps set students on a successful path.
When asked about what she wants to make sure people know about the school, Kaoru had the following to say:
"An NIS education is something like a gift from parents to a child, as long as it is a good fit and affordable for their family. Even if it's only three years, five years, or more, it's like a hidden gem in that child's brain and also their mind," she said. "It's like a gift from their parent."
Meeting like-minded parents
Parents, like Kaoru, thrive when they are able to connec with fellow parents, and they are passionate about connecting with prospective families who may be considering a move to NIS.
Transition Buddies – the parent buddy system here at NIS – are connected with similar families (i.e. those who speak the same language, have similarly aged children, have the same background and interests, etc.) if they request it at any time in the admissions process.
The goal is to help families make the best possible decision for their children and – should they select an education at NIS – help ensure a seamless transition into the school.