Mr. Gildart is a student favorite! His passion for teaching stretches beyond the classroom, and he can often be found mentoring his students at MUN conferences, on the TED stage, or through his podcast and YouTube activities. When he's not teaching, he's learning! Read to find out more!
What is your role/what do you teach at NIS?
I teach Individuals and Societies (I&S) in Grade 9, and I teach DP History. That means I teach grades 11 and 12. I'm also the DLL for I&S as well. Some people might wonder what Individuals and Societies is. In the West, they primarily teach History and Geography, and in Japan and Korea, there is Social Studies 社会科 (shakaika) that covers History and the Humanities. Individuals and Societies covers a broader spectrum of the humanities, with these subjects included, but also Archeology, Anthropology, and Political Science, with some influence from Psychology and Sociology. TOK thinking fits nicely with I&S and History and Economics at NIS. It is a daily mix of those subjects instead of separating them out from each other.
Tell us about your path to becoming a teacher?
When I was 16, my friend's father was an under-12 soccer coach, and he asked his son and me to assist. I loved it so much that I kept at it, and I got my Level 1 & 2 coaching license by the time I was 19. I started thinking that coaching is like teaching; having a plan and goal and delivering it to the team. Also, having the privilege of being a potential positive influence on my team was appealing, and I started thinking about teaching. My university soccer coach influenced me to think about what I really wanted to do and introduced me to someone who was tutoring, so I got involved in helping students who needed extra support in reading and writing. That experience affirmed that I was on to something. I double-majored in History and Political Science and then went on for two additional years for a post-baccalaureate Bachelor's in Education at Acadia University in Nova Scotia. It's hard to believe I've been teaching for 25 years now. It is never boring as a teacher, and there is a lot to juggle, but I love my career.
How long have you lived in Japan?
I came to Japan in 1997 with the typical idea that I would be in Japan for two years and then go on to other countries. I ended up in a little town in Aomori in the northern part of the Tsugaru Peninsula. The teaching wasn't that challenging, but the people there were amazing! I set out to learn to communicate with them, which was a challenge because of their very regional dialect.
Where else have you taught? How did they differ from NIS?
After Aomori, I moved to Tokyo for my first international school job at Columbia International School and worked there for 8 ½ years…and learned a lot! Tokyo is where I met my partner, Yuka, and is one of the reasons the 2-year plan turned into a 25-year experience (so far)! I taught at a couple of other international schools before coming to NIS in 2017. Something that stood out to me very quickly at NIS was that the students here, though they are inherently privileged to be going to a private international school, they don't behave as such. They are very well-grounded, and they are kind to each other. Most new students who come in can find their place rather quickly since the kids look out for each other. They are also very fun to teach…they have a great sense of humor! And they are so creative, which spills over into their service work. And though you do see it in other schools, I feel our students are very genuine in their actions, not just doing it to check off boxes for college applications.
What's the best thing about being a teacher?
There's no ONE best thing. But there are moments that just want to make you cry because you are so happy and proud of your students and their accomplishments. Especially when you see them pursuing the dreams that they have laid out for themselves. Or when you see that student that has had a growth moment… maybe they were struggling at first, but now they "get it," and they have that personal victory and are proud of themselves.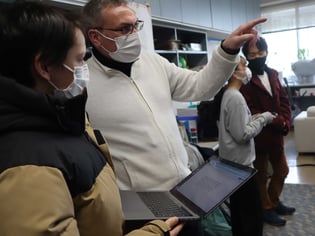 That is just the most gratifying thing, and it makes me think that I really chose the right profession. And it's not just in classes, but in clubs, too. For example, the Gr. 12 MUN (Model United Nations) Club members passed the baton earlier in the semester. Their comments to their younger club members were incredibly insightful, mature, and supportive. I might be making a difference in their lives, but they are also making a difference in each other's lives…and in mine, too!
What is one of your passions or interests? What do you do outside of school?
Ed-tech and computers are a big passion of mine. I'm a PD (Professional Development) junkie! I like doing PD in terms of being a participant because I am a lifelong student, myself. [Editors Note: check out Mr. G's YouTube channel, "Social Studies Samurai" centered on interesting stories in history, geography, civics, and cool tech tips, too!).

But I also like delivering PD, and since the mid-2000s, I've been a Google for Education Certified Trainer and Google Educator Group Mentor for the Asia-Pacific region. I've been invited to conferences in Asia and Japan to deliver presentations on using tech in the classroom. The administration of NIS has been very supportive of this. I also started the first very Google Educator Group here in Japan in 2014. Groups have grown out of the original, and there are dozens of groups throughout Japan now. It's great to learn, teach, and collaborate with people all over the world.

I love soccer. It changed my life as a student and gave me confidence. I also love music, and I play guitar in a band called "The Complaints Department." We've been together for about 12 years and have recorded a couple of albums. Pre-COVID, we used to play a lot of gigs around Tokyo. We are even on Spotify and iTunes…it's loads of fun!
What's one thing you'd like your students to really understand?
This is something I've been thinking about a lot over the last several years. Individuals & Societies, History, Civics…in all of these subjects, we cover rather serious things that are often the worst about humanity. But what I'd like my students to understand is that the world is a good place. People are inherently good. They might do bad things, but we need to figure out why. For example, the simple fact is that a smile goes a long way. I want kids to figure out those formulas and know that there is a lot of good out there.
What are you reading now?
Rutger Bregman, a Dutch Historian who wrote "Human Kind, A Hopeful History." It kind of flips other historians' narratives and looks at the psychology of researchers resulting in another look at our stories and finding a more positive viewpoint. Also, "Burning the Books", by Richard Ovenden, a historical overview of the care and neglect of libraries and why libraries are valuable. Another passion of mine is getting students to read!!
What is your favorite place in Japan?
Shiuramura (市浦村) in Goshogawara, Aomori. There is an amazing shrine in the woods called the Sannobo Hie Jinja. It's just magical there.
What is your favorite Japanese Food?
That would have to be okonomiyaki…hands down!